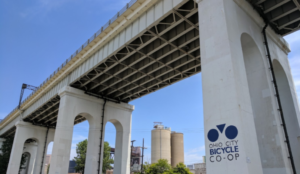 OCBC is seeking a new administrator
We are sorry to be losing our administrator, to the business world, where he will be putting his new MBA in Supply Chain Mgmt. to good use (or at least more use than he can at OCBC, where our input is a ceaseless stream of donated bikes that is inherently unmanageable!).  You can see Eric's take on this watershed in his letter, below.

So OCBC will be adding to our staff of five (a Director, Volunteer Coordinator, two full-time mechanics, and Eric) for a short transitional overlap until Eric's term expires on December 15th.

We are seeking to hire, by the end of November, an Administrator to perform basic office duties and assist with retail sales, as described here:

This person will be responsible for:

●     public communication (website, social media, email, phone and mail)

●     routine bookkeeping, inventory, payroll, and scheduling

●     retail customer assistance and point of sale duties

Familiarity with Quickbooks, or significant experience with similar accounting and Point Of Sale software is needed; as well as comfort with spreadsheets and database and content managements systems (we currently use SQL, Joomla, and WordPress) and Google products.  Good written and personal communications and retail experience are necessary.

Ability to relate calmly and respectfully with volunteers and visitors of all backgrounds is essential.  Spanish language skills are a plus, as is prior experience as a member or volunteer at OCBC or other community bicycle program. This position offers vast growth potential, so many other types of skills may be applicable.

This permanent position will average 40 hrs/week, with flextime for holidays, and full health coverage.  Hours are flexible, but our posted Retail and Apprentice times will usually be required.

Anyone with the required skills; tolerance, perseverance, and equanimity; and a sustained commitment to be a beneficial difference in the world is encouraged to email a cover letter to info@ohiocitycycles.org with "APPLICATION" in the subject line and a current resume of pertinent experience attached.

Applications will be considered according to our non-discrimination policy, and the position will be open until filled, hopefully by Nov. 30th.  All applications will be acknowledged within 48 hours, and all candidates will be notified of our hiring decision when completed.
Farewell from Eric
Friends,
As many of you know, during my time at OCBC I have also been pursuing my masters in business at night at Cleveland State University.  With my graduation date thankfully approaching soon, I have decided to leave the Co-op to explore other opportunities related to my studies.  I have been at OCBC for over two years and while there have been wonderful days and difficult days, I have enjoyed my time here immeasurably and carry so many good memories with me going forward.
Working for a small organization like OCBC can be demanding at times.  We often have to learn how to do tasks that we have never done before and without being able to consult any experts.  Most days I felt like I played the role of accountant, IT specialist, barista, cashier, supply chain analyst, and psychologist all within an 8-hour span.  This is what kept me engaged so often though, the challenge of working through problems with other creative, engaged people and finding success much more often than failure.  I wish my replacement luck in their endeavor here and hope that they find it as rewarding as I have.
It is a rare thing to find a place where so many different people from all sorts of backgrounds and circumstances can meet up, talk, work and learn together.  I consider myself fortunate to have made such a place my work home for so long.  The staff members, board members, and volunteers that have come through the Co-op are among some of my most cherished friends and I will be disappointed to not have them with me at my new job.  I plan to come back though and stay involved in whatever way I can to further the mission of the organization.
Thanks for all the good times,
Eric