Updated September 2nd,  2020
What a summer is has been…
We are grateful for our dedicated staff and board, and the few key volunteers who are so essential to our mission to "help people use bicycles" during the Covid-19 pandemic. Here is what we did this summer, and what we are continuing to do to help people use bicycles:
We have continued to refurbish bicycles, and make them available for sale in our new online shop, ohiocitycycles.org/onlineshop
We have continued educating and assisting people through our service assessments, a couple very carefully executed programs, limited volunteering, and assisting walk up requests from our community on an as possible/as needed basis (please, if you are able to make purchases, parts requests, and appointment requests through the online shop, do that so you don't crowd out someone who is not able, thanks!)
We continue to accept bicycles and bicycle related donations. Please email photos to info@ohiocitycycles.org to confirm we are able to accept, and get an appointment.
We have continued to invest time in training our volunteers, however limited they may be due to COVID
Unfortunately, There are some things we still cannot do until the COVID risk has passed. Those include:
Open, drop in volunteering However, please do reach out if you are interested in volunteering! Just know, spaces are VERY limited. volunteering@ohiocitycycles.org
Personal shop use We can't wait until the shop can be full of people working on their bicycles again, but for the time being, shop use is still unavailable.
In person shopping is limited to items available on our dock, during your appointment. No walk up-in person shopping inside the building.
In person classes and education are still on hold until we can be sure that our instructors can do it safely. We have some at risk staff and volunteers that we want to protect.
And here is what we will be doing this fall and winter:
we will be available for online purchase pick ups, and service assessments, by appointment only, on Saturdays from 12-5pm. If you need help with your bicycle, please purchase a service assessment and book an appointment with us.
we will be evaluating how we can do more education, and do it safely, until most risk has passed
we will be preparing for what we ALL hope is a better, brighter 2021!
Thanks for all your support this summer, and we can't wait to be able to welcome you back inside the co-op!
-Erik, Staff Coordinator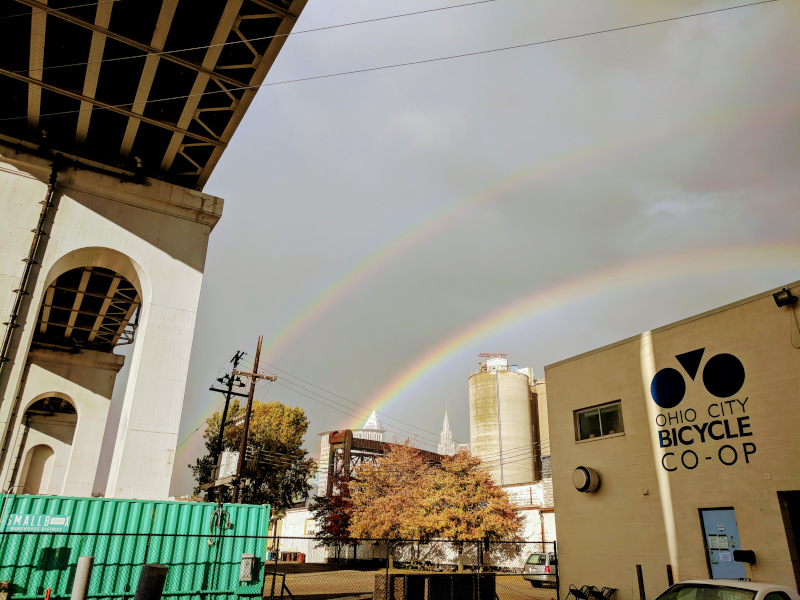 Updated June 24, 2020
Dear OCBC community,
We are grateful for our dedicated staff and board, and the few key volunteers who are so essential to our mission to "help people use bicycles" during the Covid-19 pandemic. Here's how we are getting back to that mission, without allowing ANY public foot traffic in the shop, display area, or stockrooms.
Phase 1 services available:
Donated, new children's bikes for sale
We usually only have donated, used bikes for sale, but the first model for sale on our website are new, fully assembled bikes appropriate for kids from ~ 6 to 10 years old — with only one gear, and a coaster (pedal) brake — that are simple, durable, and inexpensive. These were donated by corporate partners whose employees we helped to assemble them for charity service events. The majority of these bikes were donated to Cleveland Metropolitan Schools and other partner organizations just before the pandemic, and your purchase of these remaining bikes will go a long way to support OCBC's operations during a time when our usual programs have been canceled. A free check up, Bike Basics maintenance classes, and a one-year, trial membership to Bike Cleveland for "Bike Smarts" safe cycling class are included with these Street Metal bikes (as with all bikes we sell).
Refurbished used bikes for sale
The other bikes on our website are what we normally have for sale in our showroom: fully-refurbished donated used bikes that will be running like new, with any worn parts replaced with new; priced at about half of the cost of a comparable new bike. A free check up, Bike Basics maintenance classes, and a trial membership to Bike Cleveland for Street Smarts safe cycling class are included.
Parts for sale
We have many good, evaluated used replacement parts for sale: Most are $5 – $25, and we can help you with installation tips if needed. Email with pictures and/or as much detail as possible about parts specifications, and we will do our best to make sure you get what you need. The new parts that we carry are the same price as at your local bike shop, so we encourage you to support them too, but are glad to provide new cables and housing with your used brake calipers if needed.
Drop-off repairs (for later pickup)
If your bike is not steering or stopping well, or is making unusual sounds or acting funny you should find out why — in case it is a symptom of something (like a loose crank arm) about to fail, or something worn out (like your brake pads) and about to cause something else to fail (like your wheel rims) — any of which could cause a crash. We are able to diagnose many problems you can describe via email and follow up over the phone, and will tell you if it something that's not dangerous or that you can fix yourself, and repair just what is needed to make your bike safe and reliable for your needs. We have a Pay What you Can policy for necessity cyclists.
Only limited bike donations being accepted
Because most of the work to process the hundreds of bikes we are donated is done by volunteers, at this time we are unable to accommodate more than a very few. So if you have a good bike you would like to donate but are able to leave it for a bit longer in your garage or basement, please do. If you are moving, or must dispose of it for some other reason, please email us a clear picture and we will reply promptly to advise — whether to donate it to us, or any other options. If you have an inexpensive department store bike, know that it will be recycled properly by anyone who finds it on your treelawn.
Additional services, including distance learning opportunities, to be offered in future phases will be announced here, and, as always, please feel free to email with questions or suggestions. To see our tentative plans for future phases, please review this page.
We will not be allowing foot traffic in our interior spaces, but are interacting with patrons outside, in our lot, and on the covered dock entrance to our building.
Public volunteer opportunities are not available now, but will be, remotely, in a later phase of this policy.
OCBC will be open for limited sales and service in the first phase of a "No-Contact" procedure to ensure the absolute minimum chance of infection for our staff and the public. Bikes that are fully refurbished and ready to ride can now be purchased, with advice on size and fitting, in the Online Shop on our website, and a test ride and help with fitting during your pick-up appointment. Purchased bikes, as well as parts and accessories, can be picked up by appointment Thursdays through Saturdays, noon – 5p (or other times if necessary), and will be done with all protective measures, and no shared space in any case.
Public use of the workshop will NOT resume until risk of infection has passed. However, helping people with necessary repairs to make their bikes safe to ride is an important part of our mission, so appointments can be made to drop off bikes for essential repairs during the above times.
Bike donations will be accepted only by appointment, and on a very limited basis, since w do not have volunteer capacity to salvage parts from bikes that we can't use. An email with pictures is appreciated if you are not sure (please include "Bike Donation Picture" in the subject line.
We have been eager to get back to helping people use bikes for transportation, health, and wellbeing — especially since bike shops are classified as essential businesses under the Ohio Dept. of Health Covid-19 order. Designing a process to protect everyone from infection, without compromise, was our first priority, and we are satisfied with what is described here.
However, drastic changes to our standards and practices have been required for our small staff (of three) to provide meaningful services without the help of our many volunteers (who amount to about eight extra workers for every hour we are open). We have settled on an evolving plan that will provide bikes and repairs to the most people as quickly as possible, at the most affordable cost, without compromising our high standards for safety and careful service.